The Satisfaction of the Customers
is our Best Reference!
Customer satisfaction is in practice expression for the quality of a product or a service. - We at IBT THIERMANN attach every day the utmost importance on fulfilling the wishes and expectations of our customers with regard to service and product, in which our suppliers actively support us.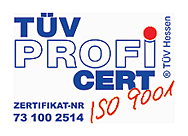 IBT THIERMANN is certified accor­ding to quality standard DIN EN ISO 9001 since 2009.